Committee
Chair – Voter.Services@lwvofla.org
---
BILLS FILED FOR THE 2018 LEGISLATIVE SESSION-VOTER SERVICES
HOUSE SCORECARD ON 2018 VOTER SERVICE BILLS
SENATE SCORECARD ON 2018 VOTER SERVICE BILLS
---
Candidate and Other Current Election Information
The Louisiana Open Primary/Congressional Election is November 8, 2022. On the ballot will be primary elections for U.S. Senate and Congressional races, several local races, and 8 amendments to the Louisiana Constitution.
To find your sample ballot, go to https://voterportal.sos.la.gov/ and click the "Search by Voter" button.
Find information about the candidates in statewide and selected local elections at vote411.org.
Important dates:
October 11: Voter Registration Deadline In person/By mail

October 18: Voter Registration Deadline Online

Oct. 25 – Nov. 1: Early Voting

November 4: Deadline for Registrar to receive voted by mail ballot

November 7: Deadline to request a mail ballot

November 8: Election day (find your voting location at GeauxVote.com)
---
---
Voter Registration
Are you registered to vote? Do you want to change your party, your address, your name? Are you a U.S. citizen living abroad or a member of the U.S. Military? CLICK HERE TO REGISTER TO VOTE OR  CHANGE YOUR REGISTRATION IN LOUISIANA
---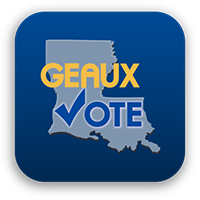 Louisiana Election & Voting Basics