Committee
Ellen Torgrimson – Chair – Voter.Services@lwvofla.org
---
BILLS FILED FOR THE 2018 LEGISLATIVE SESSION-VOTER SERVICES
HOUSE SCORECARD ON 2018 VOTER SERVICE BILLS
SENATE SCORECARD ON 2018 VOTER SERVICE BILLS
---
Candidate and Other Current Election Information
The Louisiana General Election is December 8, 2018. On the ballot will be runoff elections for Louisiana Secretary of State and several local offices, as well as tax and other ballot questions in individual parishes.
To find your sample ballot, go to https://voterportal.sos.la.gov/ and click the "Search by Voter" button.
Find information about the candidates in statewide and selected local elections in the LWVLA Voters Guides.
Important dates:
September 11: Voter Registration Deadline In person/By mail

September 21: Voter Registration Deadline Online

Sept. 28-Oct. 5 (excluding Sun., Sept. 29): Early Voting

October 11: Deadline for Registrar to receive voted by mail ballot

October 12: Election day (find your voting location at GeauxVote.com)
---
---
Voter Registration
Are you registered to vote? Do you want to change your party, your address, your name? Are you a U.S. citizen living abroad or a member of the U.S. Military? CLICK HERE TO REGISTER TO VOTE OR  CHANGE YOUR REGISTRATION IN LOUISIANA
---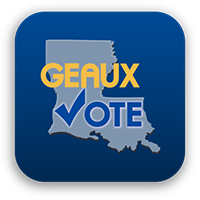 Louisiana Election & Voting Basics